Police Clearance Certificate in USA (United States of America)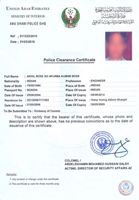 Welcome to Best Police Clearance Certificate Services in India
For more details call us at:-
09810411824
09868106032
Procedure for getting PCC (Police Clearance Certificate) from USA
HOW TO GET THE POLICE CLEARANCE CERTIFICATE (PCC)?
You should obtain an FBI cover letter and fingerprint card from the FBI either online (http://www.fbi.gov/hq/cjisd/fprequest.htm) or from the FBI address below. Fingerprints should be taken by a fingerprint agency, local police department, a regional office of the Department of Motor Vehicles or a private organization engaged in the fingerprinting business. A money order or certified cheque for the applicable fees should be addressed to the U.S. Treasury. The letter, fingerprints and
fees should be sent to:
FBI, Criminal Justice Information Services Division
Attention: SCU, Mod D-2
1000 Custer Hollow Road
Clarksburg, West Virginia 26306
U.S.A.
YOU MAY ALSO BE REQUIRED TO APPLY FOR THE STATE POLICE CLEARANCE CERTIFICATE.