Police Clearance Certificate in UAE-United Arab Emirates
Welcome to Best Police Clearance Certificate Services in India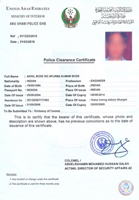 For more details call us at:-
09810411824
09868106032
Procedure for getting PCC (Police Clearance Certificate) from UAE
HOW TO GET THE POLICE CLEARANCE CERTIFICATE (PCC)?
You should obtain an FBI cover letter and fingerprint card from the FBI either online (http://www.fbi.gov/hq/cjisd/fprequest.htm) or from the FBI address below. Fingerprints should be taken by a fingerprint agency, local police department, a regional office of the Department of Motor Vehicles or a private organization engaged in the fingerprinting business. A money order or certified cheque for the applicable fees should be addressed to the U.S. Treasury. The letter, fingerprints and
fees should be sent to:
FBI, Criminal Justice Information Services Division
Attention: SCU, Mod D-2
1000 Custer Hollow Road
Clarksburg, West Virginia 26306
U.S.A.
YOU MAY ALSO BE REQUIRED TO APPLY FOR THE STATE POLICE CLEARANCE CERTIFICATE.
Non Resident request for Police Clearance Certificate from United Arab Emirates (UAE).
Full set of fingerprints of both on a prescribed format taken by a private fingerprint agency of your country or by a police station.
Need to get the set of fingerprints attested by the ministry of external affairs and with UAE Embassy.
THINGS REQUIRED TO BE SEND TO UNITED ARAB EMIRATES (UAE) FOR POLICE CLEARANCE CERTIFICATE:
The fingerprint form legalized by the UAE Embassy
A copy of your previous residence permit in the UAE
A copy of your recent passport
Two colored passport-size photographs
Any required fees (depends on jurisdiction)
Send your packet to the concerned Ministry of Interior agencies below. Before sending the documents, please call the UAE Office to receive information on required fees, and to make sure you're sending them to the appropriate jurisdiction.
General Department of Criminal Investigation 
Permits and Certificates Section
Dubai Police General H.Q
P.O.B: 1493
Dubai, U.A.E
Tel: 971-4-2013484 / 2013564
Fax: 971-4-2171512 / 2660151
Email: certificate@dubaipolice.gov.ae
Website: www.dubaipolice.gov.ae
Police Department – Abu Dhabi
P.O.B: 398
Abu Dhabi, U.A.E.
Tel: 971-2-4414666
Fax: 971-2-4414938
Website: www.adpolice.gov.ae
Sharjah Police
Website:www.shjpolice.gov.ae
We suggest sending the documents to a friend in the UAE, so that your friend can obtain the certificate from the Police Department on your behalf. This will greatly reduce the processing time compared to sending the documents directly to the Police Department