Police Clearance Certificate in THAILAND
Welcome to Best Police Clearance Certificate Services in India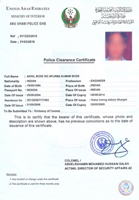 For more details call us at:-
09810411824
09868106032
Procedure for getting PCC (Police Clearance Certificate) from THAILAND
Local Requests
You should apply in person at the Special Branch of the Royal Thai Police (see below). Thai nationals must submit the original and one self-certified copy of their passport, national identification card (if applicable), household registration (if applicable), marriage, divorce and name change certificates and military record (if any), plus a copy of the request for police clearance issued by Citizenship and Immigration Canada (if any), and two recent photographs. Foreign residents should submit the original and one self-certified copy of their passport, visa work permit or proof of employment, or proof of stay in Thailand, with two recent photographs.
Police Clearance Service Centre
Commander Special Branch
Royal Thai Police Headquarters
Rama I Road, Patumwan
Bangkok 10330, Thailand
Telephone: +66 (02) 205-2168
Fax: +66 (02) 205-2169
E-mail: pcsc@police.go.th
Web site: www.sb.police.go.th
Non Resident request for Police clearance certificate from Thailand.
Certified photocopy of valid passport
Certified photocopy of Thai Visa
Certified photocopy of present Visa in case you are foreigner (student visa, visa work, Resident visa and others)or Letter Request for Record check from Embassy.
Document(s) stating that the applicant is used to work or reside in Thailand.
A photocopy of Thai working permit (if available)
Paper of power of attorney (If authorized someone)
Letter explain the purpose of request and which country to use (only one country ) or write in the application form that can download from our website: www.pcscenter.sb.police.go.th, for application:
www.pcscenter.sb.police.go.th/filedownload/form_app.pdf
Two photographs (1 inch or 2 inches)
Two sets of original fingerprint. Fingerprint must be taken at fingerprint agency or local police or Thai Consulate or Thai Embassy in your country together with the official seal and signature of the official taking the fingerprint.
A self addressed envelope enclosed with the postage fee (equivalent to seven international postage vouchers which can be purchased at your local post office).
An applicant is needed to provide postage fee in order to mail certificate back to the applicant. we would not responsible for lost if nobody receive it or a change of new address Otherwise, you must start new.
Fees of 100 Baht
Note: If criminal record is found or all required documents are not submitted, then, certificate may take longer than normal to get it.
HOW TO SEND MONEY VIA TELEGRAPHIC TRANSFER
From October 1, 2012 onwards, The Police Clearance Service Center will need to Collect an extra Fee amounted as 100 Baht which will be use for the delivery of the certificate of good conduct to all units responsible for providing Criminal Background Checks.
Therefore, if you wish to receive your concerned documents through a postal service, a part from an extra postal stamps for the return of documents, an extra fee amounted as 100 Baht should also be attach here with by transfering to Bank :
Bank Name/Branch : UOB Bank / Siam Square Branch
Bank Code : 024 Branch code : 772
Swift Code: UOVBTHBK
Bank Address: 410-410/1 Siam Square Soi 6 ,Rama I Road ,
Patumwan Sub-District , Patumwan District ,Bangkok, Thailand
A/C Name: Police Clearance Service Center
A/C No.: 772-163-299-0
A/C Type: Saving
FOR DETAILS:
The Police Clearance Service Center.
Building 24, Royal Thai Police, Rama I,
Pathumwan, Bangkok 10330,
Thailand.
Telephone: +66 (02) 205-2168-9
Fax: +66 (02) 205-1295
E-mail: pcsc@police.go.th, pcsc.thaipolice@gmail.com