Police Clearance Certificate in SINGAPORE
Welcome to Best Police Clearance Certificate Services in India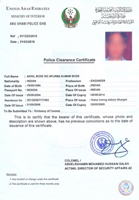 For more details call us at:-
09810411824
09868106032
Procedure for getting PCC (Police Clearance Certificate) from SINGAPORE
Local Requests
The Certificate of No Criminal Conviction is issued by the Criminal Investigation Department (CID). You should present a letter from the Canadian Immigration Visa Office and complete an application with a full set of fingerprints taken by a qualified fingerprint official or at the CNCC office at the time of application, photocopies of your current passport, documentary proof of a previous stay in Singapore for non-Singapore citizens, two passport-size photographs, and a bank draft in Singapore dollars for the applicable fees payable to the Head of Criminal Record CID. Applicants residing outside Singapore may apply by mail to the same address at:
CNCC Office
Police Cantonment Complex
Block D #02-07/08
391 New Bridge Road
Singapore 088762
Telephone: 65-6435 8275 or 65-6435 8277
E-mail: SPF_CID_CNCC@spf.gov.sg
Web site: www.spf.gov.sg
Non Resident request for Police Clearance Certificate from Singapore (CNCC).
All applicants must complete the Certificate of Clearance application form http://www.spf.gov.sg/faqs/doc/coc_appform.pdf in full and submit it with the necessary supporting documents:
A set of applicant's fingerprint impressions (ten prints). Applicants applying in person will be fingerprinted at COC office at the time of application. For application by post from overseas, the applicant must submit a set of his/her fingerprint impressions taken by a qualified Fingerprinting agency or a fingerprint Officer at an authorized office of the country he/she is now residing.
A photocopy of applicant's valid passport. (Bio page only)
Two recent passport-sized photographs.
Photocopy of document from relevant consulate/immigration authority/government bodies to establish that the certificate is required by such authority. All documents are to be translated to English if written in other languages.
Processing fee is S$45.00 per application. Payment can be made by cash, NETS, cash card, or credit cards (VISA/MASTERCARD) for walk-in application. Application sent by post (from overseas) must be accompanied by a bank draft made payable to 'Head Criminal Records CID' through a financial institution based in Singapore. In addition to the processing fee, a postage fee of S$5.00 must be included in the payment (total S$50.00) if the COC is to be sent to an overseas address. Payment is non- refundable once the application is processed
FOR DETAILS:
Head Criminal Records, CID (COC),
Blk D Police Cantonment Complex,
#02-07/08, 391 New Bridge Road,
Singapore 088762.
Telephone: (+65)64358409
(+65) 64358410
Website: www.spf.gov.sg/index.html