Police Clearance Certificate in SAUDI ARABIA
Welcome to Best Police Clearance Certificate Services in India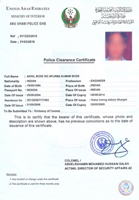 For more details call us at:-
09810411824
09868106032
Procedure for getting PCC (Police Clearance Certificate) from SAUDI ARABIA
The Canadian Embassy issues upon request a signed letter of introduction to the Ministry of Foreign Affairs. These are available at:
Visa Section
Embassy of Canada
P.O. Box 94321 Riyadh
Fax: 01-488-9657
Residents of eastern Saudi Arabia (i.e., Jeddah/Makkah, etc.) must obtain their police request letter from the Canadian Consulate in Jeddah:
11F Ali Reza Tower
Madinah Road
P.O. Box 9484
Jeddah 21413
Saudi Arabia
Fax: 02-653-0538
Letters may be picked up in person, or the embassy or consulate may be instructed to send it by courier, at the requester's expense. You may use any courier service.
You must then present this letter along with valid identification and proof of legal residency in Saudi Arabia to the Ministry of Foreign Affairs. Individuals vetted by the MFA must then apply for the certificate in person at the relevant police headquarters.