Police Clearance Certificate in PERU
Welcome to Best Police Clearance Certificate Services in India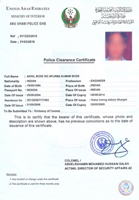 For more details call us at:-
09810411824
09868106032
Procedure for getting PCC (Police Clearance Certificate) from PERU
Local Requests
Police certificates are available from the Policía de Investigaciones de Peru (PIP) at the local police stations. Peruvian citizens must present proof of payment from the Banco de la Nación and their original DNI with two copies. Non-Peruvian applicants must provide their Carnet de Extranjería number.
Penal certificates may be obtained at:
Registro Nacional de Condenas
Av. Abancay cdra. 5, 1er piso
Lima 1, Peru
Judicial certificates may be obtained at:
Registro Nacional de Condenas
Av. Abancay cdra. 5, 4to piso
Lima 1, Peru 
Non-Resident Requests
Applications must include a set of fingerprints taken by a recognized police authority or a fingerprinting agency of the applicant's country of residence. Police certificates may be obtained by contacting the nearest Peruvian embassy or consulate or by writing to:
Policía de Investigaciones del Perú (PIP)
Av. Aramburu 550
San Isidro, Peru
Alternatively, family members or friends residing in Peru may request police certificates on behalf of an applicant.