Police Clearance Certificate in State of Ohio, USA (United States of America)
Welcome to Best Police Clearance Certificate "Ohio" Services in India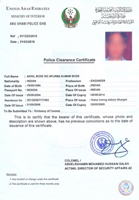 For more details call us at:-
09810411824
09868106032
Procedure for getting PCC (Police Clearance Certificate) from USA
Police clearance certificate from State of Ohio, USA
Fingerprint Base Police Clearance Certificate.
A full ten-print set of fingerprints on the Ohio BCI card taken by
any private fingerprint agency or at police station.
A cover letter of explanation as to why they need this information
and the electronic fingerprint exemption form if staying outside USA  www.ohioattorneygeneral.gov/OhioAttorneyGeneral/files
/69/6989d5e5-63f8-4d7f-8d25-2816707562fe.pdf
Money order of $22 payable to the "Treasurer, State of Ohio".
SEND THESE THINGS TO:
Bureau of Criminal Identification and Investigation
P.O. Box 365
London,
Ohio 43140
Telephone: (877) 224-0043 Fax: 740-845-2633
Website: www.ohioattorneygeneral.gov/Business-and-Non-Profits/Business/Webcheck
Processing Time: 2 – 3 week approximately.