Police Clearance Certificate in NIGERIA
Welcome to Best Police Clearance Certificate Services in India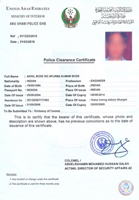 For more details call us at:-
09810411824
09868106032
Procedure for getting PCC (Police Clearance Certificate) from NIGERIA
Local Requests
You should apply in person with your valid passport, two passport photographs and the applicable fees. Residents of Nigeria should apply to:
Central Criminal Registry
Force C.I.D. Annex
Alagbon Close Ikoyi
Lagos, Nigeria
Non Resident request for Police Clearance Certificate from Nigeria.
Full set of fingerprints of both on a prescribed format www.nigeriacrb.com/Police%20Report%20Form.pdf taken by a private fingerprint agency of your country or by a police station.
Cover Letter.
All documents are sent back to applicant in a recorded sign for secure post.
Posting to: (Within Nigeria)
Cost
 Time
Normal Application
N20,000.00
2-7days
To ascertain delivery; we use
DHL – Trackable on www.dhl.com
Posting to: (UK ONLY)
Cost
Time
Normal Application
£80
9-14days
Fast Application
£120
5-7days
Posting to: (Other Countries)
Cost
Time
Normal Application
£100 or $150
14-17days
Fast Application
£150 or $240
5-7days
Payment options:
Bank:  LLOYDS TSB
Account Name: Li2 Incorporation
Account Number: 29263568
Sort code: 30-97-89
For International transfer/payment:
IBAN code: GB95 LOYD 3097 8929 2635 68
Swift Code: LOYDGB21404
Bank Name & Address: Lloyds TSB Kings street, South Shields
Nigeria:  First Bank Plc
Account Name: Li2Pay Venture    |   Account No: 2022997829
Paypal – pay to: support@nigeriacrb.com (+ £5 Processing fee)
For Detail Contact:
CRB Clearance
Li2 Incorporation
(2nd Floor)
26 Blandford street,
Sunderland
SR1 3JH
Telephone: +447946759680
Website: www.nigeriacrb.com