Police Clearance Certificate in State of Montana, USA (United States of America)
Welcome to Best Police Clearance Certificate "Montana" Services in India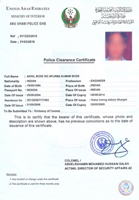 For more details call us at:-
09810411824
09868106032
Procedure for getting PCC (Police Clearance Certificate) from USA
Police clearance certificate from State of Montana, USA 
Fingerprint Base Police Clearance Certificate.
A full ten-print set of fingerprints on a standard FBI applicant card (FD-258) taken by any private fingerprint agency or at police station.
A cover letter of explanation as to why they need this information.
Money order in the amount of $10.
SEND THESE THINGS TO:
Montana Criminal Records
302 North Roberts – 4th Floor
P.O. Box 201403
Helena, MT 59620-1403
Telephone: (406) 444-3625
E-mail: dojitsdpublicrecords@mt.gov
Website: doj.mt.gov/enforcement/background-checks
Name based Police Clearance Certificate
Requests for background checks should include:

the name of the person being checked and, if possible, any aliases or maiden names
the person's date of birth
his or her Social Security number

Specify whether the request is for a name-based or fingerprint check. For a fingerprint check, the requester must include an applicant fingerprint card. Blank cards are available from local law enforcement offices or from Montana Criminal Records (see contact information below).
Enclose:
a self-addressed stamped envelope
the $10 processing fee for each individual to be checked must be paid by check or money order
Mail the complete request to Montana Criminal Records.