Police Clearance Certificate in KUWAIT
Welcome to Best Police Clearance Certificate Services in India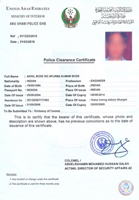 For more details call us at:-
09810411824
09868106032
Procedure for getting PCC (Police Clearance Certificate) from KUWAIT
Local Requests
You must apply in person and provide; a request from the Canadian Embassy, two photographs, a copy of your passport, and a copy of your resident visa in Kuwait.
Note: No fees are required.
Address: 
Department of Criminal Evidence
Ministry of the Interior
Farwaniya District
Kuwait
Telephone: 00965-434-6101
Location: Al Dagig area in front of Kuwait Airways 
Non Resident request for Police Clearance Certificate from Kuwait.
Return to Kuwait to apply for the police certificate; OR
Send a representative to apply for the police certificate (with a power of attorney to authorize him or her to act on your behalf); OR
Obtain certificates from a Kuwaiti embassy or consulate by providing the documents listed below:

Full set of fingerprints of both on a prescribed format taken by a private fingerprint agency of your country or by a police station.
Need to get the set of fingerprints attested by the ministry of external affairs and with Kuwait Embassy.
Cover Letter.
Passport copy (Copy of the passport including the pages containing the previous residence stamp during the applicant's residence in Country).
Four Photographs.
Applicable Fees.
FOR DETAILS:
Department of Criminal Evidence
Ministry of the Interior
Farwaniya District
Kuwait
Telephone: +965 2 434 1520
Location: Al Dagig area in front of Kuwait Airways