Police Clearance Certificate in State of Kansas, USA (United States of America)
Welcome to Best Police Clearance Certificate "Kansas" Services in India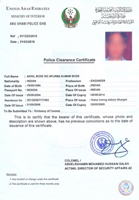 For more details call us at:-
09810411824
09868106032
Procedure for getting PCC (Police Clearance Certificate) from USA

Police clearance certificate from State of Kansas, USA
Fingerprint Base Police Clearance Certificate.

Name based Police Clearance Certificate
A form need to be filled that can be downloaded or apply on line from the website.www.kansas.gov/kbi/criminalhistory/forms/PAS%20Manual%
20Record%20Check%20Request%20Form%2010.2009.pdf
Money order in the amount of $30 payable to the "KBI Record Check Fee Fund".
Processing Time: 7 – 10 days approximately.