Police Clearance Certificate in IRAN
Welcome to Best Police Clearance Certificate Services in India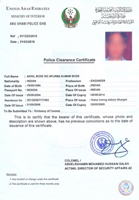 For more details call us at:-
09810411824
09868106032
Procedure for getting PCC (Police Clearance Certificate) from IRAN
Local Requests
Iranian nationals should present their original Iranian identification or birth certificate (Shenasnameh) bearing a photo of the holder with a copy of all the pages, an original National Card, two photographs (3×4 cm) with a white bbackground, the fee Rls 35,000, and a copy of the first page of their Iranian passport if available (otherwise, a letter of introduction from the embassy is required). You can apply at one of the POLICE+10 centres, please visit: http://81.28.32.56/pp10/
Non-Iranians resident in Iran and people living in Iran as refugees can request police certificates through the Alien Bureau at the Ministry of Interior. These applicants need to present their Iranian residency card.
Non-Resident Requests
You may apply at the nearest Iranian embassy.