Police Clearance Certificate in State of Hawaii, USA (United States of America)
Welcome to Best Police Clearance Certificate "Hawaii" Services in India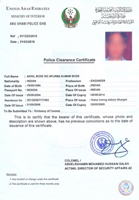 For more details call us at:-
09810411824
09868106032
Procedure for getting PCC (Police Clearance Certificate) from USA

Police clearance certificate from State of Hawaii, USA
Fingerprint Base Police Clearance Certificate.
A set of full ten-print set of fingerprints on a standard FBI applicant card (FD-258) taken by any private fingerprint agency or at police station.
A Cover letter explaining reason for criminal background check.
Money order in the amount of $30 payable to the "State of Hawaii".
SEND THESE THINGS TO:
Hawaii Criminal Justice Data Center
Attn: CHRC Unit
465 S. King Street, Room 102
Honolulu, HI 96813
Telephone:  (808) 587-3100, (808) 587-3279
Website: ag.hawaii.gov/hcjdc/ 
Processing Time: 7-10 Business days approximately.