Police Clearance Certificate by FBI, USA (United States of America)
Welcome to Best Police Clearance Certificate "FBI" Services in India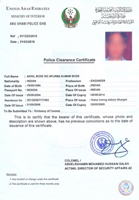 For more details call us at:-
09810411824
09868106032
Procedure for getting PCC (Police Clearance Certificate) from USA
1. Complete Applicant Information Form.
If for a couple, family, etc., all persons must sign Applicant Information Form. Application form to be filled separately by each person.
Include your complete mailing address and fill in all the mandatory fields with all information. Please provide telephone number and/or email address, if available.
2. Fingerprint Card
Obtain a set of your fingerprints preferably by a qualified fingerprint expert (original card, no copies) on the original FD 258 card. Fill in all the information in the fingerprint card FD 258 with black ink including your name and date of birth.
Fingerprints should be placed on a Standard Fingerprint Form (FD-258) commonly used for applicant or law enforcement purposes.
Include rolled impressions of all ten fingerprints and impressions of all ten fingerprints taken simultaneously (these are sometimes referred to as plain or flat impressions.)
If possible have your fingerprints taken by a fingerprinting technician (this service may be available at a Law Enforcement Agency or private fingerprinting agency.)
Previously processed fingerprint cards will not be accepted. Need to send freshly taken fingerprint cards each time.
3. Payment
Include $ 18 – U.S. dollars in the form of a money order, certified check made payable to the Treasury of the United States (please be sure to sign where required), or you may pay by credit card. Note: No cash, personal checks, or business checks will be accepted.
Must be exact amount ($18).
If for a couple, family, etc., include $18 for each person.
If paying by credit card you must include the completed Credit Card Payment Form.
4. Check List
Review the FBI Identification Record Request Checklist to ensure that you have included all the information we require to process your request.
5. Mail the required items #1, #2, and #3 (listed above) to the following address:
FBI CJIS Division – Record Request
1000 Custer Hollow Road
Clarksburg, West Virginia 26306 
USA