Police Clearance Certificate in BARBADOS
Welcome to Best Police Clearance Certificate Services in India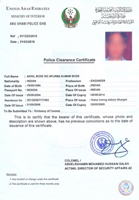 For more details call us at:-
09810411824
09868106032
Procedure for getting PCC (Police Clearance Certificate) from BARBADOS
Local Requests
Applications should include the applicant's full name and any previous names, most recent address in Barbados, date and place of birth, a photo identity card and the applicable fees. You should apply in person at:
Central Police Station
P.O. Box 84
Coleridge Street
Bridgetown, Barbados
Telephone: 246-430-7100
Non-Resident Requests
You may apply by mail, in person or someone can submit the written request on your behalf to the Central Police Station.  The police clearance can be mailed to you or given in person.
Applications should include the information required for local requests along with a set of fingerprints taken by a recognized police authority and a self-addressed envelope (if you wish the police clearance to be mailed back to you).  Provide a copy of your photo identity card or passport.